Almighty Home Health Care, Inc. provides access to care and treatment when the patient is unable to leave the home.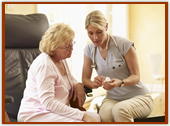 We foster stability within the comfort of your own home environment and in return, we minimize the need for hospitalization. At the same time, we maximize functional independence.

We, at Almighty Home Health Care, Inc., enhance continuity of care.

Almighty Home Health Care, Inc. recognizes that patients and their families have the right to participate in planning for their care, to make decisions about their healthcare, and to maintain their independence as long as possible.

Almighty Home Health Care, Inc. acknowledges these decisions and strives to provide quality care to patients within the privacy of their own homes.

With a coverage area of Cook County, Lake County, Du Page County, Will County and Kane County, we allow patients the convenience of familiar surroundings and do everything we can to provide the best services by our skilled professionals.

Please give us a call to inquire about our services - (773) 463-4040.